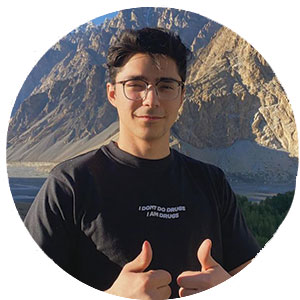 Bilal Warraich
City School ISB, O Level: 9A*, 2A's
SAT: 1510
Bucknell University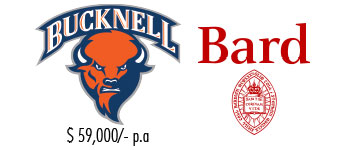 A Testament to Triumph – From Cultural Assimilation to Leading Liberal Arts College
Navigating the intricate path of cultural assimilation is a formidable journey, regardless of its location. However, to reintegrate into a society that the global community perceives as your own, yet feels entirely foreign, presents an immense burden that often threatens to undermine success and prosperity. The unfamiliarity of the language, the conspicuousness of one's accent, the unfamiliarity with the environment, and the multitude of cultural intricacies all contribute to a sense of alienation from one's surroundings. Social integration becomes a complex and arduous struggle, which adversely affects academic performance and subsequently dampens the motivation to strive for excellence. Born in Switzerland and arriving in Pakistan at a young age, Bilal Warraich precisely faced this daunting challenge.
Bilal's mother hailed from Kosovo, while his father had Pakistani roots. Having spent his formative years in Switzerland, Bilal grew up in an eclectic environment, influenced by diverse cultural experiences that would later shape his unique global perspective. Confronted with the uphill battle of reacclimating upon his return, Bilal embraced the challenge with an outgoing personality, unwavering dedication to his studies, and humble adaptability. Within the classroom, he found inspiration that propelled him to achieve remarkable academic feats, securing 9A*s and 2 As in his Cambridge Ordinary Level Examinations, as well as an impressive 1510 SAT score. Yet, Bilal's transformative journey extended far beyond academic excellence.
Central to his growth was his pivotal role as a teacher at a local orphanage, where Bilal had the privilege of venturing beyond the insular confines of the classroom and engaging directly with the socio-economic struggles faced by the underprivileged. The connections he forged as an educator became the new roots that anchored him in his adopted country. Fueling his passion for public speaking, Bilal ventured into the national debate circuit, honing his oratory skills, and cultivating the confidence required for a successful bid to the student council. These experiences shaped his resilience, nurtured his empathy, and fortified his resolve to effect positive change in the world.
Bilal's unwavering determination and exceptional accomplishments led to a momentous milestone in his academic journey. The culmination of his efforts resulted in a fully-funded undergraduate admission offer from Bucknell University, a prestigious institution ranked #37 out of 210 National Liberal Arts Colleges according to US News. This remarkable achievement encompassed a generous $59,000 per annum scholarship, further affirming the recognition of Bilal's outstanding potential and promising future.
Undoubtedly, the support of a nurturing family stands as an invaluable asset for any student. The unwavering encouragement that Bilal received from his loved ones not only propelled him to confront obstacles head-on but also served as a steadfast source of motivation in pursuing his dreams. Bilal Warraich epitomizes the unwavering dedication and resilience fostered by a supportive family, demonstrating the power of familial bonds in shaping an individual's academic and personal growth.
As Bilal continues to embark on his extraordinary journey, his unwavering commitment to cultural resilience and academic excellence shines brilliantly. With each step he takes, he paves the way for others, inspiring them to embrace their unique backgrounds and triumph over adversity. Bilal's indomitable spirit, coupled with his remarkable adaptability and unyielding pursuit of knowledge, positions him as a catalyst for change, poised to make a lasting impact in the realms of cultural integration, educational empowerment, and global understanding.
Bilal is one of the many students Dignosco has facilitated in disrupting the cycle of social stratification through nurturing an environment that allows students to dream beyond preconceived boundaries. We do not discriminate against families on their ability to pay and provide need-blind seats with flexible payment plans to students after a careful evaluation of their financial background. This has allowed us to shape the college counselling culture in Pakistan since 2009 being the only college counselling firm with over 100 Ivy League and 33 Oxbridge admissions. We believe in providing integrated college advice which helps us deliver against the odds and sustain exponential impact by empowering lives.