Awab Naeem
LGS, JT O Level: 1A*, 2A, 4B, 4C
SAT: Optional
Franklin and Marshal College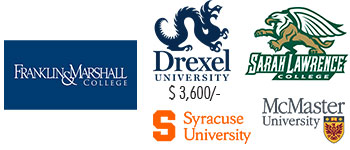 As time goes on, education has and will continue to become increasingly competitive. Between students encouraged to opt for more and more O/A Level subjects to secure as many As and A*s as possible and score inflation with the removal of negative marking with the SATs, the standards for academic success have never been higher. Countless students form part of the majority that can never achieve the heights that are easily represented and communicated on paper and hence little is thought about the future of those who did not have the fortune and journey that others did, often for valid reasons. Moreover, with an immense emphasis on quantitative measures of performance and academic standards, countless students are unable to fulfil the potential they display early on for creativity and artistic vigor.
Awab Naeem was one such student who, unable to reach his fullest potential in his Cambridge Ordinary Level Examinations, had been told by many that the doors to the future were now closed to him. But Awab continued to pursue his passions, hone his crafts in filmmaking and drama, and elected to strive for the new beginnings which are the promise of a college education. He joined Dignosco with 3As, 4Bs, and 4Cs in his O Level exams.
Awab's passion for photography and filmmaking saw him climb the ranks to become the Deputy President of the International School of Lahore's Media Society. But his work transcends the canvas, camera, and pen. His artistic journey has been influenced also by his volunteer work in trust schools with Aghaaz and his various nature treks with ELP. Those rich and diverse experiences combined with humility, commitment, and passion, secured Awab undergraduate acceptances at colleges sought after by students with seemingly greater academic qualifications including those at Franklin and Marshal ranked #39 out of 210 National Liberal Arts Colleges in the United States. Awab now pursues his passion for filmmaking full-time at Franklin and Marshall, singing his voice into the lens and actualizing his unique vision on-screen.
Dignosco does not discriminate against students based on their grades or extracurricular achievements and believes in providing a fair chance to struggling students through our quality priority plus service. This has allowed us to shape the college counselling culture in Pakistan since 2009 being the only college counselling firm with over 100 Ivy League and 33 Oxbridge admissions. We believe in providing integrated college advice which helps us deliver against the odds and sustain exponential impact by empowering lives.