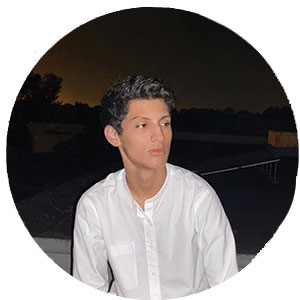 Saim Munsif
Aitchoson College, O Level: 3A*, 5A, 1B
SAT: 1530
Middleburg College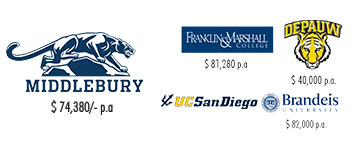 Saim arrived at Dignosco after a challenging application cycle. Saim seemed to have taken all the necessary steps to achieve his college dreams. A US national with a 1550 SAT score and a predicted IB score of 41, Saim even invested in private counselling to ensure he did everything possible to achieve his goals. And yet despite all of this, Saim was unable to get the admissions he desired and that, we feel, were suited to someone of his caliber.
Now with an IB Score of 37 and on a gap year, Saim faced an even greater challenge in securing admission. During his gap year, Saim involved himself in numerous engaging activities that broadened his horizons and enriched his thinking. From trekking Rakaposhi to leading a team of volunteers to facilitate the provision of clean drinking water to households in the Haramosh Valley and advocating for animal rights with Aarzoo Pakistan with murals hand-painted in the walls of Lahore Zoo, Saim's transformative journey was as intense and as it was diverse.
The deep sense of social and ethical responsibility that Saim developed during what many consider to be a troubling period in a student's life when they are in a gap year demonstrates the potential that is inherent in all students in changing their lives on the sole condition of their willingness to work hard. With the support, and the even greater effort he was willing to put in the second time around, Saim was able to receive a full-ride to the prestigious Middleburg College, ranked #11 out of 210 National Liberal Arts Colleges in the United States according to the 2022-23 US News University Ranking with a generous aid package as well as a fully-funded undergraduate offer of admissions into Franklin and Marshall University and Brandeis University.
Dignosco does not discriminate against families on their ability to pay and provides need-blind seats with flexible payment plans to students after a careful evaluation of their financial background. This has allowed us to shape the college counselling culture in Pakistan since 2009 being the only college counselling firm with over 100 Ivy League and 33 Oxbridge admissions. We believe in providing integrated college advice which helps us deliver against the odds and sustain exponential impact by empowering lives.