Trekking through Ayubia National Park was almost reminiscent of the days when I used to walk through Rutland county or the Peak District in the United Kingdom as a part of the Duke of Edinburgh's award. Not having to carry a 30-kg rucksack enabled me to actually appreciate the environmental aspects of the trip, not to mention the breathtaking (literally, given the altitude!) views. Fortunately, the team was equipped with additional oxygen tanks if needed, but overtime it became easier to acclimate to the height.
The Experimental Learning Program
I almost felt as if I was abroad; I had always been aware of Pakistan's vast landscapes and rare wildlife but I never knew that there were experiential learning programs for students that would enable me to explore them in such a safe and informative capacity. We were amidst natural beauty that would be unparalleled by most of the treks I had embarked upon in the UK. Although we were trailed by SSG commandos, we almost felt as if their presence or weapons were unnecessary as we strolled through the serene landscape.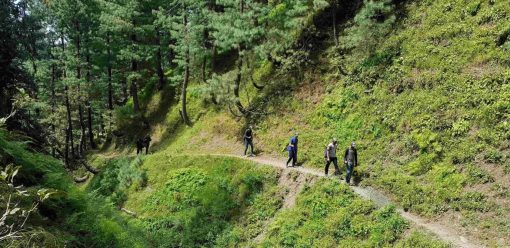 Flora and Fauna study in Ayubia National Park
We were accompanied by WWF experts, who informed us of the flora and fauna we were surrounded by as we trekked along and who briefed us as to how we should react in case we encountered a common leopard. We identified their feces and their claw-marks on tree trunks and even had the opportunity to converse with local villagers about their own firsthand encounters with common leopards. We were taught how to set up camera traps to study another one of the many remarkable and rare species indigenous to Pakistan, the flying squirrel. We even spotted one late at night, while its shrill sounds rang throughout our campsite.
Interaction with the Team
Team exercises and map orientation games allowed me to engage with other members of the trek, apart from the ones who I had gotten through know through the small groups we had formed based on our trekking pace. It was re-affirming to speak to other students who had also taken gap years and was an informative experience in learning how the others were spending their gap years, capitalizing on the resources that we have at home in Pakistan. I observed that some parts of the trail, particularly the sites that were within close proximity to villages, were covered in litter. Through this I came to learn of the WWF's eco-guard initiative in Pakistan, which is something that I feel is definitely worth advocating for and something that can be pursued as a community service initiative in the future.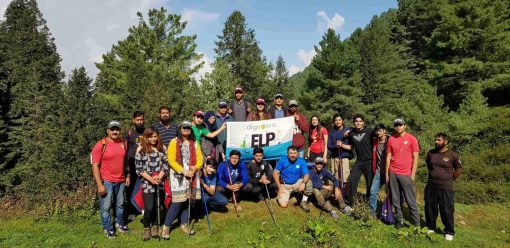 Lastly, I was relieved (and surprised) by the quality of the food that we received on the trip. Apart from the team's ability to cater to our nutritional needs on such a lengthy trip and physically-demanding trip, the fact that the meals were freshly prepared was quite pleasant, as opposed to having to rely upon un-appetizing packaged food items or a rusty portable stove like the one we were forced to use to cook for ourselves during the Duke of Edinburgh's award.
I look forward to exploring other parts of Pakistan through Dignosco's ELP.
Amal Malik has studied from Charterhouse School, United Kingdom and intends to do her undergraduate degree in Comparative Literature and Social Anthropology